ABOUT HENRY
This story is about the real life of Henry David Thoreau. Henry lived in Concord, Massachusetts, more than 150 years ago. Back then, only a few people went to college. And they usually became preachers, teachers, doctors, or lawyers. After Henry went to Harvard, he did not want to do any of those jobs.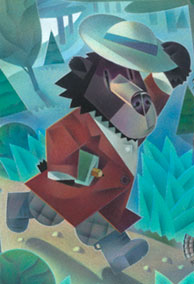 He tried teaching, but he did not like to punish the students. He tried working in his father's pencil factory. Even though he invented a better pencil, he was not interested in business.
Henry wanted to go into the woods. He would learn to name birds by their songs and animals by their tracks. He would learn when each flower bloomed. Henry wanted to know the woods as well as any fox or bird knew it. And he wanted to write it all down. Nature, he thought, would teach him how to live a better life. His friend Ralph Waldo Emerson was writing about this very thing. So Emerson helped Henry become a writer. He lent him books and invited him to meet other writers. And he told him to write every day.
Henry was free to write all winter and most of every summer. He worked at jobs just six weeks each year. He fixed people's houses and measured their land. In this way he earned enough money to grow his own food and keep his clothes patched. His neighbors shook their heads. Why was he wasting his life walking in the woods? They could not see the real work Henry was doing.
The story of Henry's walk in the fields and woods grew to seven thousand pages. From those pages came Walden, his greatest book.
"For many years I was self–appointed inspector of snow–storms and rain–storms, and did my duty faithfully; surveyor, if not of highways, then of forest paths and all across–lot routes, keeping them open, and ravines bridged and passable at all seasons, where the public had testified to their utility.
I have looked after the wild stock of the town, which give a faithful herdsman a good deal of trouble by leaping fences;..."